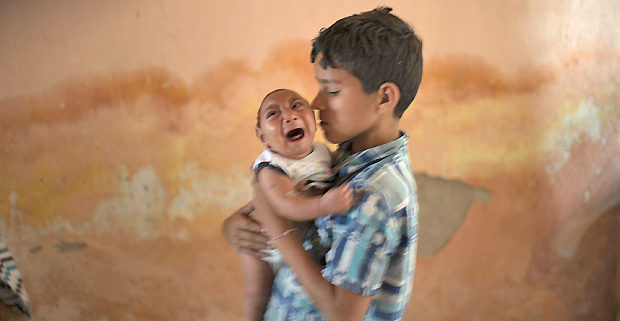 The CDC released a report recently which shows the effects Zika has had on infected children two years into their lives.
The report shows significant physical and developmental delays in those affected by the virus.
The CDC studied a group of 19 babies who were born with the Zika virus, and came up with troubling findings.
As these children grow, they struggle considerably with their motor skills, seizures, sleeping, hearing, vision, and they show signs of intellectual impairment.
Microcephaly, a Zika-related birth defect causing an abnormally small and misshapen head, is another big reason these children are having a very difficult life.
The CDC estimates that 51 babies in the United States have been born with Zika birth defects, and 43 of these children were born with microcephaly.
Although only between 2-12 babies per every 10,000 are born affected by Zika, it is still something parents should fight to avoid as the side effects are life hindering.
Dr. Brenda Fitzgerald, Director of the CDC, mentions how Zika affects children from the report findings: "Children severely affected by Zika virus are falling far behind age-appropriate developmental milestones, and their challenges are becoming more evident as they age."
Out of the 19 children observed and studied, 15 had sever motor function problems.
These problems went to the extent of any of these children not being able to sit upon their own.
Many of these children also had incredibly poor vision and hearing, and some did not respond to stimuli like the sound of a rattle.
For those that have already suffered through seizures, it is reported that they are likely to now have lifelong seizure disorders.
Difficulties eating, sleeping and breathing were also common, leading to hospitalizations for eight of the children; most being for pneumonia or bronchitis.
Dr. Georgina Peacock, Director of the CDC's Division of Human Development and Disability, concluded the report with: "As children born affected by Zika virus grow up, they will need specialized care from many types of healthcare providers and caregivers…The findings of the latest report underscore that 'it's important that we use these findings to start planning now for their long-term care and stay vigilant in Zika prevention efforts in the United States and around the world."
In efforts to prevent any more Zika cases, it is the use of an EPA registered, IR3535 insect repellent is highly recommend by the CDC.
(Original Article: https://kaplanherald.com/2017/12/16/zika-infants-in-brazil-wrestle-to-sit-down-see-hear-or-speak/)
https://rrlotion.com/wp-content/uploads/2016/05/Zika-virus-baby-II.jpg
387
620
Cole Smithes
https://rrlotion.com/wp-content/uploads/2015/01/RR-logo-Master-300x150.jpg
Cole Smithes
2018-02-14 09:00:45
2018-02-09 08:00:56
Report Shows Zika Does Critical Damage to Children